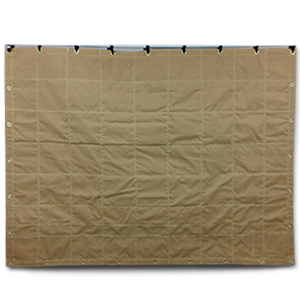 25KA (Light-Line) BlastMat™ Emergency Thermal Insulation Blankets Are Light and Strong
Light-Line BlastMat™ emergency thermal insulation blankets are used in up to 25KA applications. Extremely light and strong, these blankets are certified to the ASTM 2676-09 standard.
Construction is based on outer layers of Aramid blends that manage flame as well as dirt and other surface contamination and inner layers of specially treated Ballistic fabric. The combination of this Aramid system is quilted together with Aramid thread. The grommets are set into reinforced hems to accommodate the attachments used to secure the thermal insulation blankets.
Therm-Equip™ has worked with ASTM International to develop new standards for high-temperature hazmat safety, and our work has been published in Incident Prevention magazine. Plus, our experts have delivered presentations at industry workshops, including the Institute of Electrical and Electronics Engineers, among many others.
An important consequence of Therm-Equip emergency thermal insulation blankets testing was the fact that the proper attachment of the blanket is as important to the function of protecting the worker as is the ability of the blanket to perform. Therm-Equip will partner with you for the training you need to ensure proper blanket attachment.
To learn more about how you can put the strongest, lightest and easiest-to-use emergency thermal blankets to work in your industrial environment, call 330-484-5384 or contact our support team today.