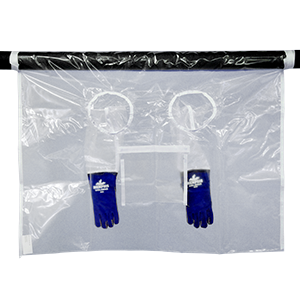 PC300 Glovebags Handle Temperatures Up To 300 Degrees
Therm-Equip® glovebags eliminate the need for costly shutdowns. Our PC300 glovebag will allow the removal of asbestos from pipes and ducts up to 300 degrees F in industrial environments such as power plants, paper mills and refineries.
Our PC300's clear, high-temperature plastic body is double stitched with leather gloves that are sealed airtight to the sleeves for workers' maximum protection. Designed for low-pressure steam lines and hot water heating systems, PC 300 glovebags are available in multiple configurations and have a maximum load capacity of 50 pounds. Therm-Equip will also work with you to develop a custom solution for your high-temperature asbestos-removal needs.
Why let anyone but the leader supply your high-temperature asbestos-removal glovebags? Therm-Equip has worked with ASTM International to develop new standards for high-temperature hazmat safety, and our work has been published in Incident Prevention magazine. Plus, our experts have delivered presentations at industry workshops, including the Institute of Electrical and Electronics Engineers, among many others.
With three decades of experience, expertise and service, Therm-Equip is the right choice for your next purchase for high-temperature glove bags. Therm-Equip glovebags, including the PC300 are specifically engineered for removing asbestos-containing insulation from high-temperature pipes and ducts. Our products uniquely offer the ability to handle routine maintenance and emergency repair on active pipe and ducts.
To put the power of the world's number one brand of high-temperature glovebags to work for you, call 330-484-5384 or contact our support team today.