40KA BlastMat™ Electric Arc Blankets Handle Higher Heat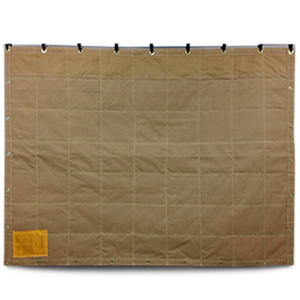 40KA BlastMat™ electric arc blankets are used in higher heat applications. Extremely light and strong, these electric arc suppression blankets are certified to the ASTM 2676-09 standard.
Other makers of electric arc blankets may say that they are certified to perform, but be sure to check that they are also ASTM certified manufacturers.
In nearly three decades of developing high-temperature hazmat safety products, you learn a few things. Therm-Equip™ has perfected the recipe for manufacturing the strongest, lightest and easiest-to-use arc-suppression blankets available today, the BlastMat line. BlastMat arc-suppression blankets are engineered to properly channel energy from an arc flash/blast to effectively protect workers.
Our best-in-class high-temperature hazmat safety products protect workers when exposed to varying extreme-heat situations, preventing serious injuries and saving the environment. In oil refineries, chemical plants, power plants and other high-temperature industrial environments, Therm-Equip products have performed flawlessly for nearly three decades.
When you need a higher-heat electric arc blanket, request the proven high-temperature hazmat safety blanket on the market, BlastMat.
To learn more about how you can put the strongest, lightest and easiest-to-use arc  blankets to work in your industrial environment, call 330-484-5384 or contact our support team today.