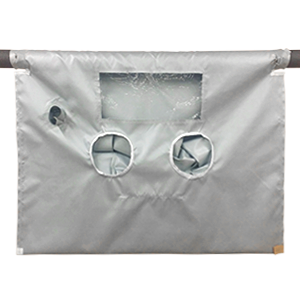 PC400 Glove Bag Handles Temperatures Up to 400 Degrees
Rely on the leading brand for your next asbestos-removal glove bag purchase. Therm-Equip® has been the industry leader for nearly 30 years, and we've been through more experience, expertise and testing than anyone else.
Therm-Equip glove bags, including the PC 400, are specifically engineered for removing asbestos-containing insulation from high-temperature pipes and ducts. Our glove bags uniquely offer the ability to handle routine maintenance and emergency repair on active pipe and ducts. Safer and more cost-effective than full-scale containment methods, Therm-Equip glovebags eliminate the need for costly shutdowns in industrial environments such as power plants, paper mills and refineries.
Our PC400 glove bag is designed for the removal of asbestos-containing insulation from pipes and ducts at temperatures up to 400 degrees F. The construction of the PC 400 is impregnated woven opaque high-temperature fabric with full-stitched and sealed seams. Insulated leather work gloves are sealed to high-temperature resistant sleeves. Workers view the work area through a transparent window above the glove sleeve assembly.
The PC400 glove bag is available in multiple configurations and can handle a maximum load of up to 100 pounds. Therm-Equip will also work with you to develop a custom solution for your high-temperature asbestos-removal needs.
To put the power of the world's number one brand of high-temperature asbestos-removal glove bags to work for you, call 330-484-5384 or contact our support team today.